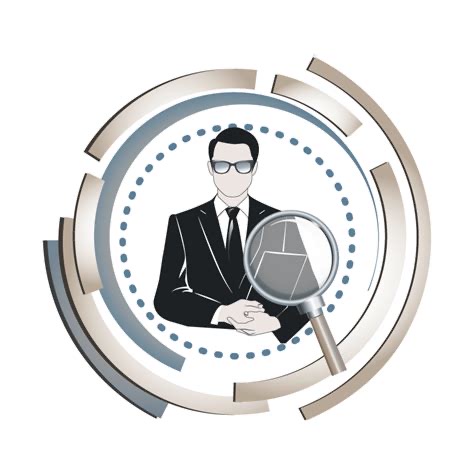 Наши каналы в телеграмм 18+
Психиатрия: https://t.me/psih_na_rabote
Новостной: https://t.me/online_news_25
Translated by Andrey Nazarov
R.V.ROMACHEV
director general
R-Techno Intelligence Agency, Moscow, Russia
PROXY INTELLIGENCE AND CLASSIFICATION OF INTELLIGENCE ACTORS, USING THE US AS AN EXAMPLE
The article defines proxy intelligence, classifying intelligence actors using the US as an example. The activities of the main US intelligence actors are briefly reviewed. Intelligence service is defined as a service provided by both state and non-state intelligence actors.
Objective: Define proxy intelligence, define the meaning of "intelligence service" in the political process, and classify intelligence actors using the US as an example. Briefly review the activities of the main US intelligence actors.
Methodology: The activities of both US state and non-state intelligence actors were analyzed. The history of interaction between non-state intelligence actors and state intelligence actors and authorities was studied. The intelligence product offered by the authors was studied. Specific organizations involved in US intelligence activities were also studied. The paper uses document review, content analysis, and comparative methods. The methodological basis of the work is source analysis.
Result: The study establishes that the US actively uses non-state intelligence actors, and private intelligence companies in particular, in its political activities. Their role, contribution, and importance in making foreign policy decisions are established. The "intelligence service" is systematized as a service provided by intelligence actors to their customers.
Practical relevance: The findings have provided a basis for practical recommendations to the Russian authorities on how to build communication and business relationships with Russian private intelligence companies.
Based on the findings, a curriculum and a course of lectures in the Political Science, Information, and Hybrid Warfare master's program at Moscow State University were prepared.
Keywords: outsourced intelligence, contracted intelligence, intelligence for hire, private intelligence, intelligence actors, corporate intelligence, dark intelligence, hybrid warfare, hybrid intelligence, non-classical warfare, proxy warfare, proxy intelligence.
Introduction. Conflictology in the last decade has been enriched by many previously atypical technologies of warfare: hybrid warfare (trade, sanctions, information), proxy warfare, and non-classical warfare. For millennia, waging war has been impossible without intelligence, whose importance has already been written off in thousands of academic papers and literature. But atypical wars require an equally atypical approach to intelligence activities since the success of any conflict largely depends not only on "atypical" military measures but also on competent military and political decisions by the leaders of conflicting parties. Of course, traditional state intelligence institutions experience a significant strain on their apparatus during a confrontation, which requires them to bring in additional resources capable of conducting the same non-classical intelligence in a non-classical war - in other words, proxy intelligence.
Proxy intelligence. Proxy intelligence is the provision of intelligence services by non-state intelligence actors on behalf of a state customer (usually a state intelligence actor or a country's top leadership, either directly or through agents of influence). Proxy intelligence is carried out by both commercial companies and non-profit organizations (foundations, NGOs).
Moreover, in Western scientific works [10. P. 190-213; 11. P. 286-294] one can find the reference to "proxy intelligence". In the modern interpretation, the translation of the term is close to "proxy intelligence" or "proxy intelligence". The British social anthropologist Jeremy H. Keenan refers to North African intelligence agencies (in particular the Algerian DRS) as proxies with the British MI6. In terms of intelligence theory, the more correct term is "covert intelligence", where an actor is used in an operation without realizing it.
However, if we talk about "proxy intelligence" precisely as a kind of outsourcing, we cannot talk about the use of an actor "behind the scenes". This is because when a private contractor receives a public contract, it becomes aware of the aims and objectives of the collaboration.
Intelligence services (IS) should be understood as a highly intelligent service of informing (removing uncertainty in managerial decision-making) the customer or misinforming (exerting a beneficial influence on areas of interest) both a potential and a real opponent, competitor, or rival.
The providers of RI can be both state intelligence actors (GRAs) and non-state intelligence actors (NSAs). At the same time, Efren R. Torres-Baches, in his work "Welcoming the New Age of Intelligence" [9. [9. C. 14] defined private sector intelligence as a practice that can be defined as the process of collecting, analyzing, and disseminating operational strategic and tactical information about possible hostile actors and dangerous world events that may pose a direct physical or reputational risk to company operations and assets.
An intelligence service is a service that can be provided by an Intelligence Service Provider (ISP) either on its own, i.e. without the use of supporting technological tools, relying only on its competencies, knowledge, and experience, or with the help of specialized intelligence solutions.
Intelligence Solutions (IS) refers to an area of activity that aims to provide instrumental, technical, technological, financial, and other support and backstopping for the provision of intelligence services.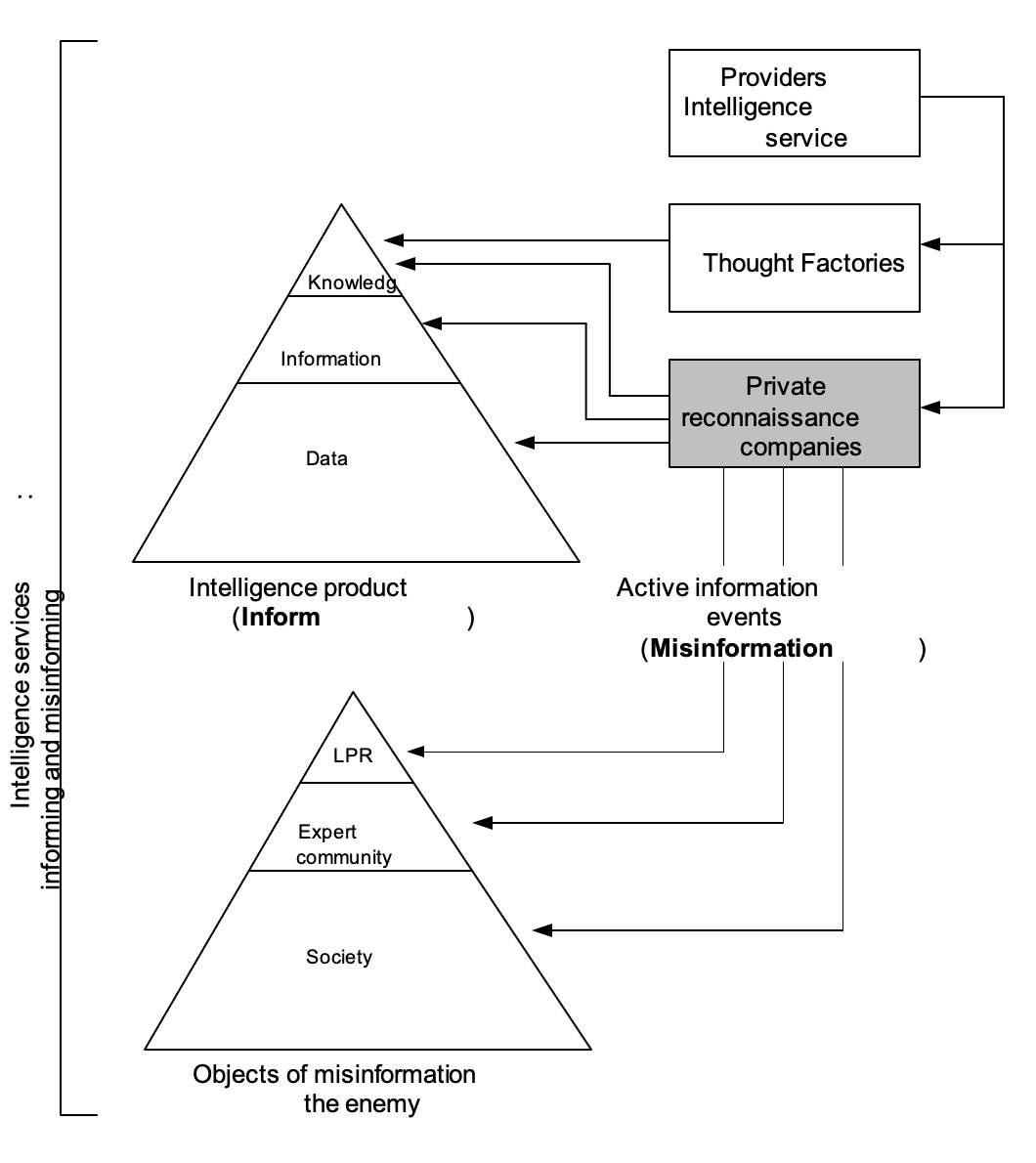 Figure 1: Intelligence services
All intelligence services can be briefly described as informing the customer and misinforming the enemy. In this case, informing refers to providing both data and information and synthesizing new knowledge, analytical findings, and foresight (forecasting) on the basis thereof. Misinforming the adversary also takes place on three levels:
the misinformation of society;
misinforming the expert community, LOMs (1);3) misinforming LPRs (2).
Clearly, in contemporary conflicts, US state intelligence actors do not have the flexibility to act as flexibly as their commercial contractors. This is largely due to several reasons:
serious control by the legislature over the intelligence community and "transparency" in their activities;
limited budgets;
There are diplomatic and reputational repercussions in the event that intelligence activity is uncovered within the enemy camp;
The requirement for significant competencies, which are growing quite rapidly, and which state actors, unlike private ones, clearly cannot keep up with.
All this led to the emergence of the private intelligence industry in the US as early as the 19th century, which today is the most capital-intensive industry in contrast to similar industries in other countries.
Intelligence services (in terms of information) have been classified by the US intelligence community itself since the middle of the 20th century according to methods and sources of information:
OSINT - Open search intelligence, open source intelligence.
HUMINT - Human intelligence, where people are the source of information.
SIGINT (ELINT, COMINT, MASINT) - Signal intelligence (Electronic intelligence, Communications Intelligence, Measurement and Signature Intelligence), radio intelligence, electronic intelligence, and communications network intelligence.
IMGINT - Imagery intelligence, image intelligence.
GEOINT - Geospatial intelligence, geospatial intelligence.
FININT - Financial intelligence, financial intelligence.
TECHINT - Technical intelligence, technical (technological) intelligence.
CYBINT (DNINT) - Cyber Intelligence (Digital network intelligence), Cyber intelligence, network intelligence.
Classification of US intelligence actors. At the moment, there is a complete lack of a classification of intelligence actors in academia, both among political scientists and among historians of intelligence services. Open sources, on the other hand, are filled with journalistic clichés [15]: "private intelligence structures", "spies for hire", "private contractors of intelligence agencies", "intelligence outsourcers", etc. Journalists have lumped together all companies that have ever worked under a government contract with special services, which only confuses industry researchers. For example, M. Dundukov in his doctoral dissertation "Intelligence in the U.S. State mechanism (historical and legal aspect)" also points to the low level of the scientific study of the topic:
"Until the mid-1990s, serious scientific (including legal) research aimed at the study of US intelligence was mostly of a closed nature and was prepared within the walls of departmental scientific and educational institutions..... Among the open works devoted to the study of American intelligence, published both in the Soviet and post-Soviet periods, the majority of studies are not scientific works, but rather can be regarded as works of a public nature...".
But nevertheless, the CIA itself, as far back as 1972, in the "Report of the Working Group on Contacts with American Commercial Companies" (3), voiced two categories of contractors:
1. administrative, contractual, and procurement:
contracting services;
financial and budgetary services;
legal advice and services;
logistics services;
medical counseling and services;
staff screening;
staff recruitment;
procurement of goods and services;
Public and press relations; - Research and development; - Training.
2. Intelligence-operational:
analysis;
collection;
operations;
support; - reconnaissance.
However, exactly half a century has passed since then and the world has changed dramatically: the level of progress, technology, and geopolitical environment has greatly affected the intelligence outsourcing industry, leading to a booming private intelligence industry that has divided into commercial actors and non-commercial actors, into providers of the tools and solutions needed to provide intelligence services and providers of the intelligence services themselves, into explicit players and mimicry players. The classification of intelligence actors is presented in Figure 2.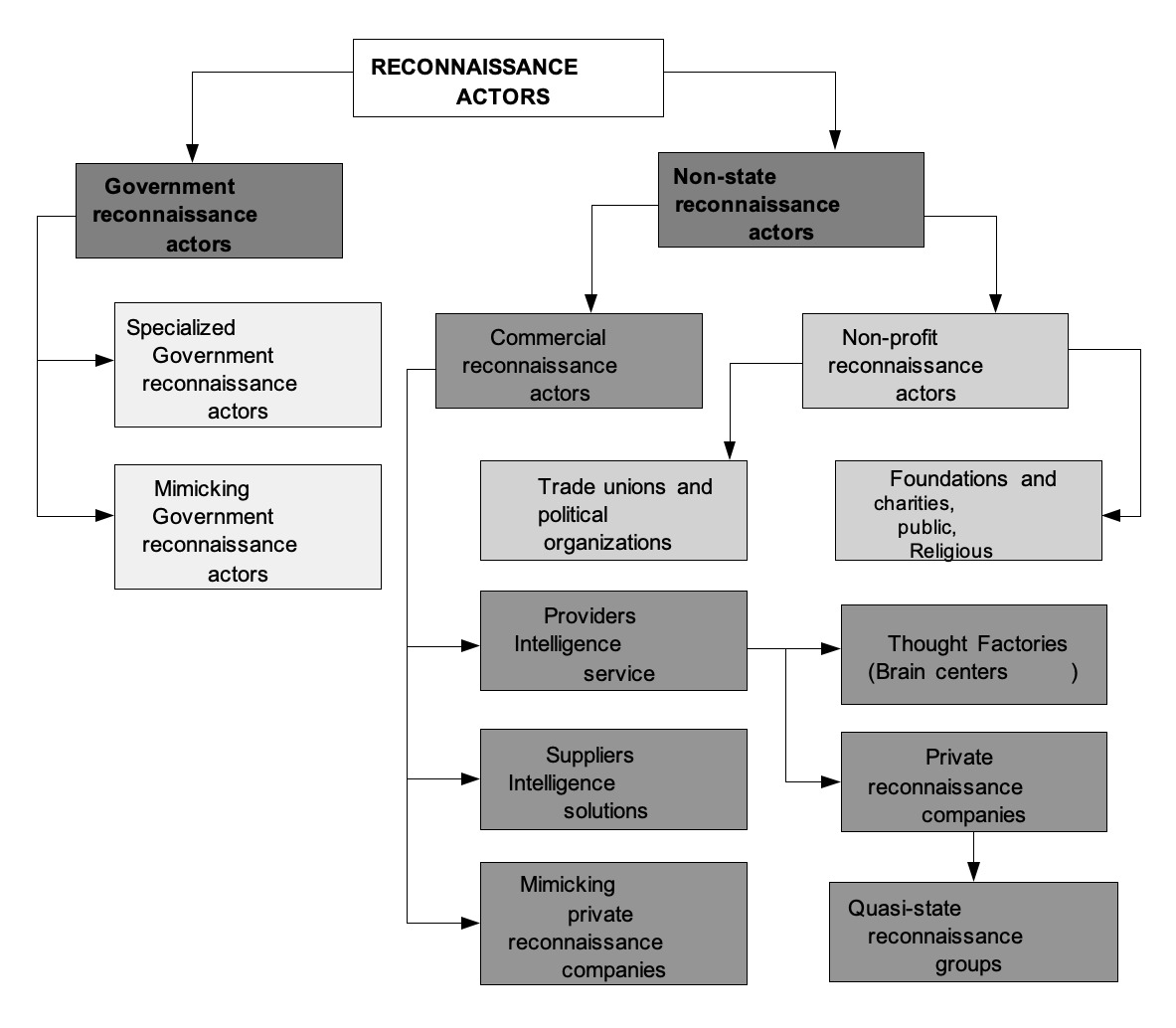 Figure 2: Classification of intelligence actors
State intelligence actors - bodies of the state intelligence system that report directly to the head of state, in the case of the US - CIA (Central Intelligence Agency) (4), NSA (National Security Agency) (6), or that report to the head of state through the head of a department, such as DIAI (Department of Defense Intelligence Agency) (5).
Classification of US state intelligence actors:
State intelligence actors are intelligence actors that are entirely under the control of state institutions.
Specialized State Intelligence Actors (SSIAs) are agencies whose aims and objectives are to collect and analyze intelligence information. The activity of state-specialized intelligence actors is regulated by state laws, normative documents acts, and regulations, for example, in the case of the CIA - "The CIA Act of 1949". In the U.S., in relation to the SIGRA, the term is referred to as the U.S. Intelligence Community, which includes 17 intelligence agencies.
Mimic state intelligence actors - state organizations whose activities are aimed at other tasks and functions, such as promoting democracy, promoting glasnost, developing political competition in third countries, whose actions are in one way or another aimed at performing intelligence tasks, such as recruiting and "cultivating" agents of influence; conducting information operations; collecting and analyzing information on the structure of the political system in the region, etc. The US Agency for International Development (8) is one such organization. All mimicry actors are subordinate to the head of state through their supervising agencies, e.g. USAID through the US Department of State. State mimicry intelligence actors may be regulated by presidential decree (e.g. in the case of USAID) as well as by departmental regulations, orders, etc.
Classification of non-state intelligence actors
USA:
Non-state intelligence actors are private organizations, both for-profit and non-profit, whose founders do not include public authorities and whose activities are directly or indirectly related to the conduct of intelligence operations to collect, analyze or disseminate information, or to the creation of tools to carry out these functions.
Doctor of Political Sciences N.A. Komleva in her article "Global corporations as actors of modern geopolitical process". [16] describes private intelligence structures (PIS) as structures whose activities began with industrial espionage and countering it. This does not correspond to reality as the very concept of industrial espionage is a criminal offense that puts an end both to the reputation of the company and its further existence in principle. That is why in the mid-80s of the XX century the US business community began to build a cult of "competitive intelligence" as an activity based on ethics and law.
Commercial intelligence actors are business entities whose scope of services includes
collection and analysis of information disseminated through open channels of communication;
collecting information from people using different methods
(sources);
a synthesis of knowledge about risks, threats, and opportunities;
scientific and technical intelligence;
development of information gathering and analysis systems, information dissemination systems, analytical systems using artificial intelligence, cyber-intelligence systems, forecasting systems, etc;
conducting active awareness-raising activities;
Training in information gathering and analysis technology, content dissemination technology, open-channel manipulation technology, cyber operations technology, etc.
The activities of commercial intelligence actors are solely within the legal framework, i.e. the use of illegal methods and technologies to extract information, such as wiretapping, hacking into e-mails, torture, blackmail, etc. - is inadmissible, with the exception of planned actions agreed with the SRS when taking part in covert operations on the territory of third countries.
It is worth noting that in no country are private intelligence actors the subjects of operational and investigative activities, the US in this case being no exception.
Classification of commercial intelligence actors:
Intelligence Service Providers (ISPs) are businesses that specialize exclusively in RI. In turn, ISPs can be divided into:
Think tanks are enterprises (think tanks) specializing in synthesizing knowledge about risks, threats, and opportunities, both in the interests of business, geopolitics, and national security. Prominent representatives of such actors are - RAND Corporation; - Team B.
Private intelligence companies are organizations specializing in the full range of intelligence services, from data and information extraction and processing to knowledge synthesis, analysis, and forecasting, and are capable of carrying out proactive information activities. They can accumulate related competencies, such as those of intelligence providers, namely the development of tools, technologies, and software and hardware solutions. Representatives of such actors are:
CACI International Inc;
Kroll Inc;
Pinkerton National Detective Agency; - Secure Solutions International, Inc.
Smith Brandon International, Inc.; - Strategic Forecasting Inc.
Strategic Insight Group (SIG).
In this class, we can separately identify Quasi-State Intelligence Groups - private intelligence companies set up at the secret initiative of special state intelligence actors, but "de jure" not related to them in any way. As a rule, the existence of such organizations is strictly classified and their activities become known decades later, either through declassified documents or during an exposure, leak, or some high-profile scandal. Prominent representatives of such actors are:
The Pond;
The Gehlen Organization; - Task Force 157.
Intelligence solution providers (intelligence solution providers) are developers of application solutions for information gathering and analysis, knowledge synthesis, forecasting, etc. Prominent representatives of such actors are:
Palantir Technologies Inc;
Itek Corporation;
Booz Allen Hamilton Inc.
Mimicking private intelligence companies are private for-profit organizations whose activities are aimed at providing other services or producing a product not directly related to the intelligence service. Typically, such organizations have intelligence services as a side occupation. For example, private military companies that provide military consultancy services, escorting armed guards, guarding industrial facilities in hotspots, etc. Some prominent representatives of such actors are:
Xe Services LLC;
Military Professional Resources Inc;
Sullivan & Cromwell LLP;
American Business Consulting Inc;
Massachusetts Institute of Technology;
Yale University;
Stanford University; - Cambridge Analytica Ltd.
Non-profit intelligence actors are non-governmental, non-profit foundations or organizations. Prominent representatives of such actors are:
National Endowment for Democracy (7);- Vernon Fund.
The contribution of intelligence actors to political decision-making in the US.
USAID's activities as a mimicking intelligence actor. The organization is a representative of US "soft power" abroad and acts only in US foreign policy interests [2].
Since the mid-1990s, the post-Soviet space and countries such as Ukraine, Moldova, Azerbaijan, Armenia, Georgia, and Kazakhstan have become priority regions for Agency projects. Meanwhile, Georgia and Ukraine received the most substantial grant funding - between $90 million and $160 million annually - for democratic reforms and electoral campaigns between 1996 and 2006.
USAID's main focus has been the development of programs in the area of party and NGO building, including in the Russian Federation and the former Soviet republics.
Another tool for influencing the CIS and other post-Soviet states is US economic aid.
Already by the early 2000s, more than 100,000 citizens from 12 CIS countries were participating in US government training programs for NGO leaders, media, and government officials.
The main focus of the West has been on Belarus, Georgia, and Ukraine in order to separate their economy and politics from Russia and the CIS as a whole.
The significance that each post-Soviet country has for the US is constantly changing. Therefore, the Ukrainian crisis, and the sharp deterioration of relations with Russia, coupled with the escalation of the situation in the Middle East, forced Washington to shift its focus toward the CIS states in 2014 and mainly towards Ukraine, Georgia, and Moldova.
NED's activities as a non-profit intelligence actor. The NED provides grants for research on the development of democracy and human rights in foreign countries. Each year the National Endowment for Democracy provides financial assistance to hundreds of non-governmental organizations around the world whose work is related to the development of democratic institutions. The amount of the grant depends on the size and scope of the project, but the average grant is $50,000 for 12 months [3].
The NED funds only non-governmental organizations, which can include civil society organizations, associations, "independent" media outlets, and other such organizations.
The geography of NED grantees actually covers the entire world and is directly linked to US foreign policy interests (and therefore those of US intelligence agencies) at various points in history.
The Pond's activities as a private intelligence company (a quasi-state intelligence group). The Pond was involved in all areas of foreign intelligence: cryptography, foreign intelligence, and covert operations. A feature of The Pond's undercover work was its wide network of observers - people of different professions and social strata. They did not take any active steps to obtain classified information and therefore did not draw attention to themselves. However, if a monitor suddenly found confidential information, he or she would immediately pass it on to the Pond. Most of the observers did not receive funding from Grombach (the head of the organization) but worked on an ideological basis, some even used their own funds [4].
Itek Corporation's activities as a provider of intelligence solutions. Company founder Richard Leghorn, a former US Air Force air reconnaissance expert, was the first to propose flight reconnaissance missions over enemy territory in peacetime. Leghorn is the ideologist of the Open Skies project.
The Open Skies Project [17] allowed participating countries to overfly any other country that was also a party to the agreement, which, according to Leghorn, reduced international tensions and allowed countries to test the actions of their adversaries [4].
The activities of Team B as an intelligence service provider (Thought Factory). On 6 May 1976, CIA Director George H.W. Bush set up a think-tank, Team B. Team B" meant a team of freelance experts to help the CIA look at an alternative viewpoint on assessments of strategic systems of construction, while "Team A" meant the CIA's in-house analysts. It was the need for a competitive assessment that prompted the creation of such a team.
The external "Group B" experts were led by Harvard professor Richard Pipes and included such well-known "hawks" as Paul G. Nitze, William Van Cleve, and Paul Wolfowitz. Unsurprisingly, "Group B" concluded that the intelligence experts had grossly underestimated the threat because they had relied too heavily on hard data instead of extrapolating the Soviets' intentions based on ideology.
At its core, "Group B" was intended to build up hysteria around the external threat in the form of the USSR, and thereby encourage the President, the Congress to pursue an arms race.
The activities of American Business Consulting Inc. as a mimicking private intelligence company. In 1947 the company began publishing a printed newsletter, Counterattack, whose mission was to expose Communist sympathizers. The ABC also had a commercial side - the company offered its clients private checks on specific individuals, companies, etc., for links to Communists or their supporters.
Conclusion: Non-state intelligence actors in the US have become full-fledged participants in political decision-making, both in relation to US foreign and domestic policy. Not for nothing, journalist and private intelligence industry researcher Tim Shorrock stated in his article [14]: "This unaccountable oligarchy of spies controls the information that guides our military and civilian leaders.
NOTES:
Public opinion leaders.
Decision-makers.
CIA-RDP80-00473A000200140031-5.
Central Intelligence Agency, CIA.
Defense Intelligence Agency, DIA.
National Security Agency, NSA.
National Endowment for Democracy, NED.
United States Agency for International Development, USAID.
BIBLIOGRAPHY:
Dundukov M.Y. Doctoral dissertation 'Intelligence in the US State Mechanism (Historical and Legal Aspect)'. 2014 г.
Romachev R.V. "USAID, R-Techno. 2022 // https://r-techno.com/files/ USAID.pdf.
Romachev R.V., Antonov R.O., Atlanov K.N., Gaidar O.S., Speransky
D.V. "NED", R-Techno. 2022 // https://r-techno.com/files/NED.pdf.
Romachev R.V. History of US private intelligence. Moscow: Hot Line - Telecom, 2022.
Snowden E. "A Private Affair. Moscow: Eksmo, 2020.
Strigunov K.S., Manoilo A.V. "The Fundamental Mechanism and Laws of Non-Classical Warfare" // Grazhdanin. Elections. Power. 2019. № 4 (14).
Eric Rosenbach, Aki J. Peritz. "The Role of Private Corporations in the Intelligence Community" // https://www.belfercenter.org/publication/ role-private-corporations-intelligence-community.
Eric Rosenbach, Aki J. Peritz. "Confrontation or Collaboration? Congress and the Intelligence Community" // https://www.belfercenter.org/publication/ confrontation-or-collaboration-congress-and-intelligence-community.
Efren R. Torres-Baches. Welcoming the New Age of Intelligence, 2018 // Journal of European and American Intelligence Studies // https://www.academia. edu/47751220/Welcoming_the_New_Age_of_Intelligence_In_the_ Private_Sector.
Jeremy H. Keenan. "UK Foreign Policy and Intelligence in the Post-Truth Era: Radical Violent Extremism and 'Blow-Back'" // State Crime Journal, Autumn 2017. Vol. 6. no. 2.
Jeremy H. Keenan. "Britain's Secret Wars: HOW and WHY the United Kingdom Sponsors Conflict around the World by T.J. Coles" // State Crime Journal. Autumn 2017. Vol. 6. no. 2.
Maria A. Robson Morrow. "Private sector intelligence: on the long path of professionalization" // https://www.tandfonline.com/doi/full/10.1080/02684 527.2022.2029099.
Shorrock Tim. Spies for hire. New York: Simon & Schuster, 2008.
Shorrock Tim. "5 Corporations Now Dominate Our Privatized Intelligence Industry". "The Nation. 08.09.2016 // https://www.thenation.com/article/ archive/five-corporations-now-dominate-our-privatized-intelligence-industry/.
https://nypost.com/2008/05/11/private-spies/.
https://elar.urfu.ru/bitstream/10995/60159/1/rive_2011-1_18.pdf.
https://www.mid.ru/obsie-voprosy-mezdunarodnoj-bezopasnosti-i-kontrola-nad-vooruzeniami/-/asset_publisher/6sN03cZTYZOC/content/ id/1137767.